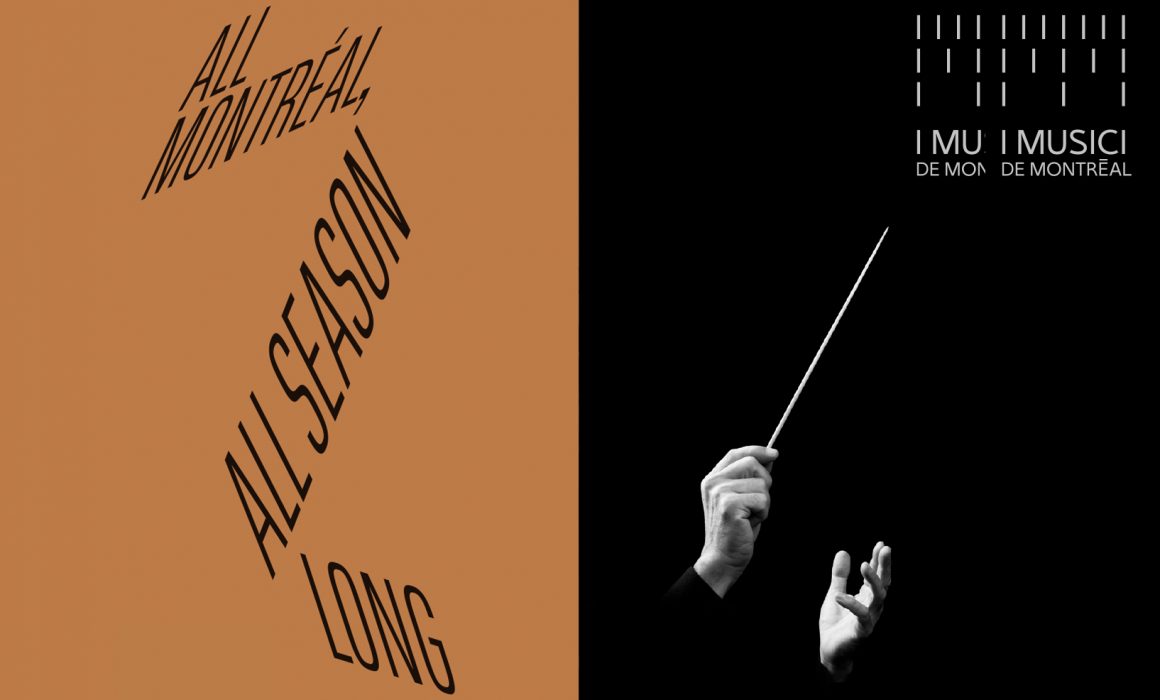 Montréal, September 28, 2021 – The I Musici de Montréal chamber orchestra is pleased to release details of its 38th season. This will be the orchestra's first season with Jean-François Rivest, new artistic advisor and principal guest conductor. All seven concerts will take place at Salle Pierre-Mercure in Centre Pierre-Péladeau, the orchestra's new permanent venue. The hall was built specifically for I Musici de Montréal in 1992 upon recommendations by Yuli Turovsky. It will also be possible for audiences to attend concerts via webcast if they wish to enjoy them in the comfort of their own home.
The 2021–2022 season will put the spotlight on many artists hailing from the Montréal area. This falls neatly into our artistic style of celebrating and strengthening the relationship between artists and the community. Another founding aspect of our programming is the revival of string orchestra repertoire, which is part of I Musici's soul and DNA. The greatest chamber music by Bach, Vivaldi, Handel, Haydn, Schubert, Dvořák, Brahms, and Shostakovich is at the centre of it all.
Collaboration and versatility also guided us in our musical choices this season. Collaboration was made possible by combining art forms such as literature, theatre, and circus, and joining forces with other prominent ensembles such as Les Violons du Roy and Kleztory. Versatility will come in the form of diverse musical styles and periods, from 1680 with Corelli to 2022 with new musical compositions.
"Be part of an exciting experience that features a chamber orchestra at the height of its powers, a plethora of wonderful, diverse, and accessible masterpieces, a unique concert hall in the Quartier des spectacles, prestigious and much-loved guests, and the joy of being together again," said Rivest.
2021–2022 Season
KLEZMER MEETS CIRCUS
Thursday, November 4, 2021, 2 p.m. and 7:30 p.m.
We decided to relaunch the season with a great celebration. Kleztory recently celebrated its 20th anniversary. Made up of eight seasoned musicians, Kleztory will fill you with happiness as you listen to irresistible rhythms typical of major Jewish celebrations and Eastern Europe. In addition to traditional and new repertoire, Airat Ichmouratov, the group's founder and a prolific composer, will present his fantasia for clarinet inspired by klezmer tunes. To take you to the skies and round out the evening's touching and intimate moments, enjoy a performance by circus artist Mathilde K. Richer. She really knows how to defy the laws of gravity.
Ichmouratov: One Day of an Almost Ordinary Life, klezmer clarinet                    (20')
Program inspired by Kleztory's repertoire                                                                     (60')
VIVALDI: IL DELIRIO FANTASTICO
Thursday, December 9, 2021, 2 p.m. and 7:30 p.m.
Historically, composers used their imagination and cleverness to set dramatic events, wild environments, battles, village festivals, birdsongs, storms, animal sounds, and other natural and human sounds to music. Vivaldi passed his Four Seasons down to us with an old poem—a sonnet—that lists each element described in the music. This sonnet will be read to us by the fabulous Anne Dorval throughout the performance by the impressive solo violinist Julie Triquet.
Biber: Battalia                                                                                                 (10')
Farina: Cappriccio stravagante                                                                   (16')
Vivaldi: Four Seasons                                                                                     (43')
VIRTUOSIC WOMEN
Thursday, January 27, 2022, 2 p.m. and 7:30 p.m.
This program gives women the platform they rightly deserve in our musical world with a composer, Linda Bouchard, and a virtuosic violinist, Sheila Jaffé, both from Montréal, the legendary character Carmen, and Nil Venditti, a talented, communicative guest conductor from Italy who will be visiting Canada for the first time. Because virtuosity is at the heart of this concert, you will be pleased with Sheila, Gypsy Airs by Sarasate, and marvellous variations on themes from Carmen.
Linda Bouchard: Réfraction (2015)                                                                     (10')
Janáček: Idyll (1st, 4th, 5th, and 7th movements)                                            (19')
Sarasate: Gypsy Airs for violin (arrangement for strings)                              (10')
Bizet-Waxman: Carmen Fantasy for violin (arrangement for strings)        (10')
Dvořák: Serenade for Strings in E major                                                             (30')
STÉPHANE TÉTREAULT AND YULI'S LEGACY
Thursday, February 10, 2022, 2 p.m. and 7:30 p.m.
The late Yuli Turovsky was truly the centre of our orchestra for over 25 years. We have called on Stéphane Tétreault, a long-time collaborator and I Musici artist in residence, to honour and celebrate Turovsky—cellist and founder of the orchestra. Following the first half of the program dedicated to Haydn, we will offer you Schubert's most famous quartet: Death and the Maiden. The dizzyingly fast technical challenges and Romanticism are truly on edge.
Haydn: Symphony No. 59 in A major, "Fire"                                                       (17')
Haydn: Concerto No. 2 in D major                                                                         (25')
Schubert: Death and the Maiden                                                                             (40')
CHARLES RICHARD-HAMELIN AND SHOSTAKOVICH
Thursday, March 24, 2022, 2 p.m. and 7:30 p.m.
We have now come to I Musici's core of great repertoire. Though Brahms's Liebeslieder Waltzes are sweet, Shostakovich's Third Quartet adapted by our conductor is filled with energy and intensity, which is part of our orchestra's DNA! Who better to ask than much-loved pianist Charles Richard-Hamelin and the great trumpetist Stéphane Beaulac to perform Shostakovich's Double Concerto, a work he composed in his twenties?
Brahms: Liebeslieder Walzer (Hermann), nos. 1, 2, 5, 7, 8, 11, and 17                      (12')
Shostakovich: Concerto No. 1 for Piano and Trumpet                                                   (23')
Shostakovich: Quartet No. 3 (percussion adaptation by Jean-François Rivest)      (34')
BAROQUE BRILLIANCE!
Thursday, April 14, 2022, 2 p.m. and 7:30 p.m.
Everyone loves baroque music for its sophistication, beautiful harmonies, and moving solos. For Eastertide, we have programmed exceptional excerpts from Handel operas sung by the wonderful Andréanne Brisson Paquin and some of the most popular works from the baroque era. Who isn't familiar with Pachelbel's Canon by now? For some pieces, our soprano will be accompanied by Marjorie Tremblay's oboe and our solo violin, Julie Triquet.
Purcell: Fantasia in Three Parts Upon a Ground in D major, Z. 731                          (5'30'')
Bach: Sinfonia and "Seufzer Tränen" from Cantata BWV 21                                         (8')
Handel: "Ah! spietato!" from Amadigi di Gaula, Act I, Scene IV                                 (5'25'')
Bach: Brandenburg Concerto No. 3 in G major                                                                (15'30'')
(2nd movement of the Italian Concerto BWV 971; violin transcription by Jean-François Rivest)
Handel: "Chi t'intende? o cieca instabile!" from Berenice, regina d'Egitto, Act III (10'30'')
Handel: "Myself I shall adore" from Semele                                                                      (7')
Bach: Passacaglia in C minor BWV 582 (transcription by Bernard Labadie)            (13')
Bach: Suite for Orchestra No. 3, "Air"                                                                                (4'30'')
Pachelbel: Canon (in three parts)                                                                                        (3')
I MUSICI AND LES VIOLONS DU ROY
Thursday, May 26, 2022, Salle Pierre-Mercure (Montréal), 7:30 p.m.
Saturday, May 28, 2022, Église Saint-Dominique (Quebec City), 7:30 p.m.
A larger number of string players makes it possible to perform works that our ensemble could not play on their own, in particular Schoenberg's Transfigured Night, one of the most poetic and Romantic pieces among the repertoire. Transfigured Night was based on a poem by Richard Dehmel (and will be read by Sophie Cadieux), telling the story of a love relationship that turns souls, anxiety, and darkness into peace and light. Our collaboration will work perfectly for Corelli's Concerti grossi, as this work benefitted from a large orchestra. You will hear the Concerti grossi in all their brilliancy with our orchestra and the Violons du Roy, topped with a bass continuo made up of harpsichords, organ, guitars, and archlutes. Montréal-based composer Stacey Brown has graciously agreed to compose an unpublished work that will be presented during the concert.
Stacey Brown: unpublished composition                                                (12')
Corelli: Concerti grossi, Op. 6 (excerpts)                                                 (30')
Schoenberg: Transfigured Night                                                               (31')
---
Ticket Sales
As of September 28, individual tickets and subscription packages for in-person concerts or webcasts will be available at www.imusici.com.
Discounts on regular admission for people 65 years and older, 35 and under, and youth up to 15 years of age.
---
For more information
https://imusici.com/en
---
I Musici de Montréal
The I Musici de Montréal chamber orchestra was founded by Yuli Turovsky in 1983. It is made up of 15 talented musicians and covers repertoire from the 17th century to the present day. Renowned artist and pedagogue Jean-François Rivest has been the I Musici conductor since January 2021. I Musici de Montréal presents and promotes original programming, putting emphasis on discovery, tradition, and innovation in classical music.
---
Media Relations:    Alain Labonté Communications
alain@alainlabonte.ca
514-815-2128