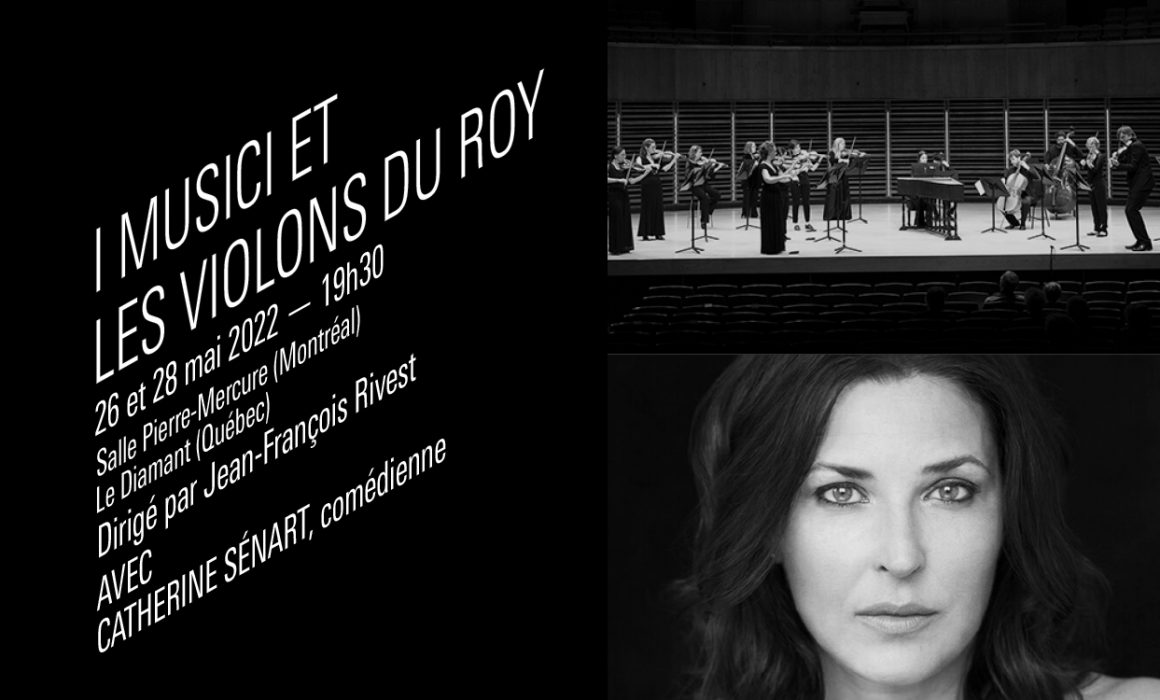 Montreal, April 27, 2022 – The I Musici de Montreal chamber orchestra is very proud to present its last concert of the season with the Violons du Roy, on Thursday, May 26, 7:30 p.m., Pierre-Mercure Hall in Montreal and Saturday, May 28, 7:30 p.m., at the Diamant in Quebec City.  Actress Catherine Sénart will also join the musicians in this concert, which will then be available as a webcast from June 2 to 12.
Under Jean-François Rivest's conductor baton, the two orchestras will perform works by Corelli and a creation by Montreal composer Stacey Brown "Où la nuit". During Transfigured Night, Catherine Sénart will add her own touch by reading a poem by Dehmel on which this piece by Schoenberg is based.
"A larger number of string players makes it possible to perform works that our ensemble could not play on their own, in particular Schoenberg's Transfigured Night, one of the most poetic and Romantic pieces among the repertoire. Transfigured Night was based on a poem by Richard Dehmel, telling the story of a love relationship that turns souls, anxiety, and darkness into peace and light. Our collaboration will work perfectly for Corelli's Concerti grossi, as this work benefitted from a large orchestra. You will hear the Concerti grossi in all their brilliancy with our orchestra and the Violons du Roy, topped with a bass continuo made up of harpsichords, organ, guitars, and archlutes." – says Jean-François Rivest, conductor and artistic advisor.
Catherine Sénart has been working in theatre and television for more than two decades. She was seen playing Marguerite Volant in Radio Canada's eponymous historical television series. She played in Les bracelets rouges, Épidémie, La Promesse, O', Mon Meilleur Ami. In cinema, she plays Fabiola, in Pieds nus of Francis Leclerc and participated in the film of Yan England, Sam. On stage, Catherine sings as much as she plays; from Eliza Doolittle (My fair lady) to Berthe in Les Filles de Caleb and Stéphane Venne to whom she paid tribute in a solo show.
---
Program
Corelli
Concerti grossi op 6 no 1 – 13 minutes
Concerti grossi op 6 no 11 – 10 minutes
Concerti grossi op 6 no 8 – 15 minutes
Stacey Brown
Où la nuit – création – 12 minutes
Schoenberg
Transfigured Night – 31 minutes
---
Tickets

Thursday, May 26, at 7:30 p.m., Montreal : Pierre-Mercure hall
Saturday, May 28, at 7:30 p.m, Quebec City : Le Diamant
June 2 to 12 : webcast
---
Plus d'informations
https://imusici.com/en/i-musici-and-les-violons-du-roy/
---
I Musici de Montréal
Founded in 1983 by Yuli Turovsky, the I Musici de Montreal Chamber Orchestra is composed of 15 exceptional musicians, whose varied repertoire spans from the 17th century to present day. Jean-François Rivest, a renowned artist and educator, has been the conductor since January 2021. I Musici de Montreal interprets and promotes original programming based on discovery, tradition, originality and innovation in classical music.
---
Media Relations
Alain Labonté Communications
alain@alainlabonte.ca
514 815 2128